Look up quakes in your region or country
Currently erupting volcanoes
Featured tours
Round the world
4-week round-the-world trip to Hawaii - Vanuatu - New Zealand - Indonesia
25-28 days - Easy
on request
Custom and group dates
Nov 2021
Guatemala
15-days study trip and expedition to Guatemala's volcanoes
15 days / 14 nights - Moderate
$ 3900 €£¥
no scheduled dates at present
Sicila and Eolian Islands (Italy)
9-day walking & study tour to Stromboli, Lipari, Vulcano and Etna with our expert volcanologist
Nisyros Island (Greece)
8-days walking & study tour on the volcanic islands of Nisyros & Cos, Greece
7 nights / 8 days - Moderate
1460 € $£¥
no scheduled dates at present
Danakil desert + Semien Mountains (Ethiopia)
15 days expedition and trekking to Erta Ale volcano, Dallol, Lalibela and Semien mountains (Ethiopia)
- Moderate
$ 4100 €£¥
Custom and group dates
Iceland
15-days geology and photo tour to Iceland
15 days / 14 nights - Moderate
3550 € $£¥
24 Jun - 8 Jul 2021
30 Jul - 13 Aug 2021
N-Sulawesi + Halmahera (Indonesia)
17-day volcano trekking tour to the Molucca Sea: N-Sulawesi, Karangetang and Halmahera
17 days / 16 nights - Moderate
3600 € $£¥
2-18 May 2021
15-31 Aug 2021
24 Oct - 9 Nov 2021
More on VolcanoDiscovery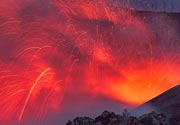 Volcanoes & Spices
: This 17-days adventurous expedition is one of our most exciting volcano tours! Visit Halmahera, North Sulawesi and the Sangihe Islands with some of Indonesia's most active volcanoes, including Dukono, Ibu, Lokon, Soputan and Karangetang.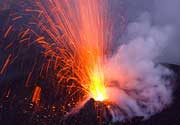 Climbing Stromboli volcano
: Stromboli provides one of the most remarkable opportunities to watch volcanic eruptions from close: a natural ridge located 150 m above the active vents. A classic and all-time favorite tour by anyone interested in seeing active volcanoes!